Top 3 types of swimwear for men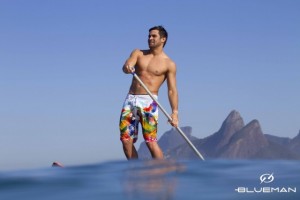 It's not only the fairer sex that is always pampered by designers. Gentlemen too can now sport that ultra chic look, especially during the holidays which are almost synonymous with loads of aquatic activities and fun and frolic on the beaches and at the pool. Say goodbye to shapeless swimming trunks and make way instead for fashionable and attractive male swimwear.
It is now perfectly affordable to buy a variety of swimwear without having to splurge excessively or waiting to take advantage of discount sales. Here's a little preview of the 3 swimwear styles that have become a rage on the beaches and an object of craving for every man.
Bermuda shorts: for that distinctive male trendy look.
This type of swimwear boasts of maximum comfort without compromising on the glamour quotient. Full and light, the combat shorts appeal to everyone as they look great in every setting – whether downtown or at the beach. In fact the fabric has been carefully chosen to suit aquatic activities such as swimming and all other kinds of water sports.
This certainly does not mean that it doesn't cater to the wearers indulging in other sports activities on the beach or at the poolside. The boardshort is reinforced at the crotch. There is therefore no risk of the seams giving way due to any broad or sudden movement After riding the waves you wont need to wait too long before your bermuda dries completely. It will then suffice to put on a light top before proceeding to engage in other activities on the beach or even in town.
The designers have made good use of their creativity to successfully transform training shorts into multifunctional accessories. You only need to complement them with the right additions and they will fit well into any surroundings and scenarios. The Bermuda easily combines with trendy sneakers for jogging sessions. It can be worn with sandals or comfortable shoes while on outings with friends but if you're at the beach it is best flaunted with thongs as accessories, or better still – with bare feet. We also loved the fact that the Bermuda comes in a varied range of styles to match every kind of personality. So there is a wide assortment of Bermuda, some with reptile or dragon prints, some bearing flags of countries or others with tropical motifs reminding you of an idyllic escape to exotic islands. And of course there are more classic versions of the Bermuda that are more sober, bearing less extravagant designs.
The trunks: an ultra skinny style of swimwear.
This is the classic swimsuit model that has been in the markets for decades but is now re-worked to seamlessly blend fashion and functionality. Men at swimming pools rather than at beaches more commonly wear this type of swimwear. Which is a shame because this style allows greater freedom of movement and has proven to be more resistant to wear and tear. For instance, this is the preferred swimwear attire not only for water sports enthusiasts but also for those who love swimming in the open sea. It is also wise to look beyond the comfort by never disregarding the appearance. The classic slip, which comes in lively colours bearing original patterns, lends a unique and distinctive air to the wearer. The more sober patterns will be perfect for those wanting to look both sporty and casual all at once.
This type of swimwear fits like a second skin and tastefully emphasises your masculinity. It is the perfectly crafted details that lend wearers a timeless and inimitable style. However it is not a style that would suit men on the skinnier side In fact the perfect moulding may actually accentuate the disparity between the size and weight which might not be very flattering to the wearer. On the other hand this model will enhance the look of a muscular, well-toned body akin to none other than Apollo and is sure to attract the attention of all the pretty ladies. Standard colours like blue and black bring out the elegance to perfection As for the fancy prints in bright colours, they reflect the joie de vivre of youth and add to the leisurely holiday mood. The cords hidden under the belt let you adjust the male swimwear so that they fit snugly and prevent them from accidentally coming unfastened on the beach or from being carried away by strong currents while swimming.
The "Sunga": a sexy Brazilian swimsuit for men
Brazil takes its beachwear fashion to new continents, giving everyone the opportunity to treat themselves to a swimsuit that joins the ranks of sexy items of clothing specifically dedicated to the masculine man. The Sunga, a design that fills the gap between classic swimming trunks and boxer shorts, is one of the most fashionable items of swimwear. The fabric is carefully chosen to remain fully opaque, even on contact with water and after long immersion. This little piece of fabric which covers the essential whilst at the same time elegantly exposing the virile, male figure, allows the wearer to say goodbye to the embarrassment caused by transparency. Softness and lightness are the secrets to the comfort given by the much talked about Brazilian Sunga, which moulds itself perfectly to the wearer's behind. Something to get the pretty girls dreaming and make other men sick with envy!
Now, the experts in swimwear have created Sunga designs in the most classic shades, with the subtlest of prints. This super seductive swimwear is a big hit wherever it is worn. Very understandable, given that they are the ideal accessories for showing-off a perfect tan. After swimming, they can be mixed and matched with light T-shirts for a game of beach volleyball or to wait for the sunset without catching cold.
So guys, which type of men's swimwear do you think would suit you best? Feel free to share your opinion by leaving a comment!
If you're looking for fashion advice, choose the perfect belt to match your outfit to make sure you look good for your meeting or an evening out!